REAL ESTATE FARM AUCTION –  118.95 ACRES M/L IN LINCOLN COUNTY TO BE SOLD SATURDAY, JANUARY 27th, 2018, Beginning 11:00 A.M.  
As per Farm Services Agency, this farm property consists of approximately 119 acres m/l with the estimated crop ground being 103 acres m/l. Farm is terraced and in compliance with USDA.  Farm is mostly tillable with excellent road access, and within one mile of 4-lane Hwy 61.  Property is located in Silex School District and features several building sites and lake sites.  Property will be offered in 2 tracts.  All acreage will be sold by the acre and adjusted to new survey.  Outboundary survey will be paid for by seller.  If property is sold in 2 tracts, there will be a survey cost of $750 per tract, to be split 50/50 between buyer & seller.  If property is sold in one tract, outboundary survey will stand.  See salebill for additional info.
LOCATION:  157 Duckett Road, Silex, MO 63377
DIRECTIONS:  From Troy, MO go north on Hwy 61 eleven miles to right on Wilson Road, go approx 1/2 mile to Duckett Rd to farm on left.  WATCH FOR KAIMANN AUCTION SIGNS DAY OF SALE!
***OPEN HOUSE ON REAL ESTATE*** 
***THURSDAY, January 4, 2018 FROM 3:00 TO 5:00 P.M.*** 
REAL ESTATE – TO BE OFFERED IN TWO TRACTS
A tract of land being part of US Survey 1767, T51N, R1W in Lincoln County, MO.  Exact legal and survey will govern.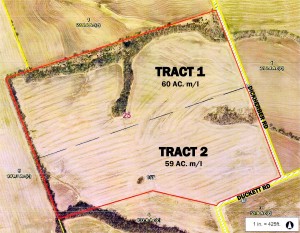 TRACT #1
This tract consists of approximately 60 acres m/l.  Property fronts on county road with approximately 1000 feet of road frontage.  This tract features a combination of approximately 40 acres tillable ground and the balance in woods.
TRACT #2
This tract consists of approximately 59 acres m/l.  Property has county road frontage on 2 sides and is mostly all tillable.
AUCTIONEER'S NOTE:  What a super nice piece of property!  It has road frontage on 2 sides for great truck and equipment access for farming.  If you are looking for that place in the country to build that dream home, with a location in a very sought after school district, you've found it!  See you at the sale!   Thank you, Charlie & Ben
For more information, or to view property prior to auction, contact Charlie at Office:  636-462-7253, Direct Line:  636-236-0043, or go to Website at:  CALLKAIMANN.COM
TERMS:  10% DOWN DAY OF SALE WITH THE BALANCE OF CASH ON OR BEFORE 30 DAYS AFTER SALE.  POSSESSION WILL BE TRANSFERRED AT CLOSING AND EXCHANGE OF FUNDS.